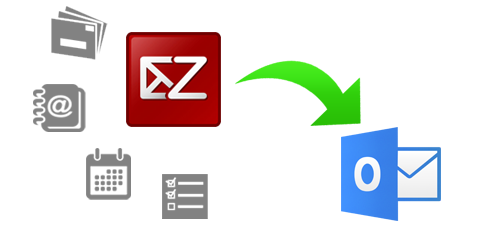 M@ilConverter




Zimbra Converter Software
Migrating from Zimbra? We Make It Easy As 1...2...3
Full migration with Mails, Task, Contacts, Briefcase & Calendar to Outlook
Power pack Multiple Mailboxes migration option with Enterprise License
Check-out the new features in Zimbra to Outlook Converter

Dual Conversion Mode
The new update about the software is that, now we have incorporated the batch mode option in it. Earlier you could convert only Single Mailbox at a time to Outlook, but now you can also convert Multiple Mailboxes from Zimbra to PST format at once.

Single Mailbox
If you have one or only few mailboxes then this option will be perfect for you. You can convert 1 mailbox folder at one process with the software. For more folders conversion you have to repeat the migration for all folders.

Multiple Mailboxes
With the Enterprise License of the software we have incorporated multiple mailboxes migration option. You can now convert large number of mailboxes/users folders at once into MS Outlook. This option is more convenient for Large Scale Migration process.
Benefits of using Zimbra to PST Converter

Quick Zimbra to Outlook migration
Easy working process to migrate Zimbra Desktop/Web Client TGZ files to MS Outlook. Now with dual conversion mode; single mailbox migration as well as multiple mailboxes migration supported now.

Convert Zimbra Contacts
The software migrates the files with the entire address book of Zimbra, including all contacts field – Name (First, Middle & Last), Address (Home, Company), Email ID, Website, profile picture. Software now also supports contacts groups and distribution lists.

Convert Zimbra Mails
Easily move mails to Outlook while retaining meta-data like to, from, cc, bcc, date, formatting – RTF & HTML & the transferring also retains read/unread status, tags and embedded email attachments.

Convert Zimbra Tasks
The software also supports to convert Task file from Zimbra to MS Outlook as it is. It will keep all the to-do-list, meetings, appointments, recurring tasks etc intact.

Convert Zimbra Calendar
The software also export calendar from Zimbra. Along the calendar it also retains or saves its details like – calendar attendee, reminder, etc which you have saved in it.

Convert Zimbra Briefcase
The software also accuratly convert Zimbra briefcase to Outlook. The updated edition of the software now has the feature to convert all the briefcase items from Zimbra to PST Outlook.

Zimbra Desktop Installation not required
There will not be any requirement to have Zimbra Desktop installed in the machine in which you are performing the migration, just have the TGZ Mailboxes folder with you.

Zimbra Migration to Exchange
The program supports easy migration of Zimbra mailboxes to MS Exchange 2016, 2013, 2010 and all earlier editions. By running the appropriate cmd on Exchange shell will have all your Zimbra user profiles imported in MS Exchange.

Import Zimbra to Office 365
The software also supports to import data from Zimbra Desktop/Webmail to Office365. Use the import option to move all the Zimbra user accounts in their configured accounts in Office 365.

Converts Zimbra to Google Apps
Now you also get the option to move all the user profiles of Zimbra into Google Apps. Just convert the Zimbra TGZ files to PST using the software and import these PST files in Google Apps using GAMMO Tool.

Converts TGZ into UNICODE PST
The program converts the .tgz files into UNICODE .pst format. You can open this file with MS Outlook 2013, 2011, 2010, 2007 & 2003 without having any issue.

All Windows OS Supported
Entirely a Windows OS based program, support to perform migration in Windows OS 10, 8.1, 8, 7, Vista, XP, NT, ME, etc.
See Working Screenshots of Zimbra Converter
See the screenshots of the software to have look at the working of the Zimbra to Outlook Converter. For Detail Process
Watch Zimbra to PST Converter Live in Action
Learn More...
Zimbra Converter: As the name implies, is a program having expertise in Zimbra Desktop files to PST conversion. All Zimbra emails, contacts, briefcase, tasks, calendars and other details will be accessible into Outlook once you export Zimbra to PST. While converting the files of your Zimbra desktop mail client to PST, the software fully retains the Meta data associated with the emails and all other details with complete accuracy and reliablity.
Now also includes Multiple Mailboxes Migration option, which will allow you to move multiple users .tgz files at one process into .pst format. This option will be available only for those who have purchases the ENTERPRISE License of the software.
If you are in midst of your choice then take a free demo to analyze the program. Trial version will let you know how to export emails from zimbra to outlook and allows you to migrate all the Zimbra items like emails, contacts, calendars, tasks, briefcase, notes etc. by adding a word "Demo" in email body, email addresses and subject. For complete and unrestricted Zimbra to PST conversion, place order for License Version of the software in just 299 USD for single user machine.
FREQUENTLY ASKED QUESTIONS
Need to Know Something?